The list projects has these controls sections and options:
Metro has a plan to invest in communities to expand access to jobs, housing and mobility options. This plan is possible by partnering to build high-quality housing for a range of income levels and community-serving retail near the B Line (Red) and D ...

Read More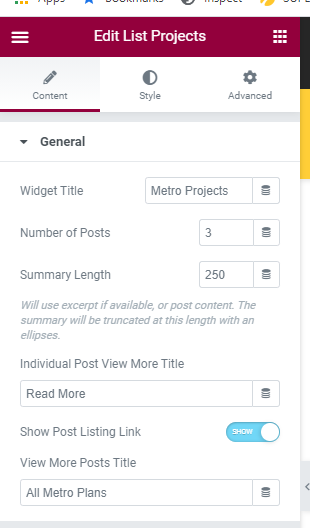 Widget Title is the text going into the colored bar
Number of Posts is how many posts to display. Some designs work best with a value of 3.
Summary Length is how many characters to display from the posts' content before cutting off and displaying an ellipses.
Individual Post View More Title is the text to display to prompt the user to read the rest of the post at its url.
Show Post Listing Link toggles whether or not the button at the bottom that would link to the full listing (such as "View All") is shown.
View More Posts Title is the title of the button below the list that least to a listing of all the related.
You can change the style this lists of projects is displayed in via the Display Style option in the Style tab.