The list projects has these controls sections and options:
This project's operational and safety improvements include reconfiguring and widening freeway ramps; constructing freeway retaining and sound walls; upgrading signals (traffic and railroad); reconstructing pavement; and upgrading curb ramps, sidewa...

Read More

The purpose of this project will be to improve freeway operations and safety along both directions of I-405 between Wilmington Avenue to Main Street in the City of Carson.

Read More

The Florence Av Bus Priority Lanes Project is an important step toward building a safer and faster multi-modal transit network in Los Angeles. Located along a 5.4-mile segment of Florence Av, between West Bl and the Florence A Line (Blue) Station, th...

Read More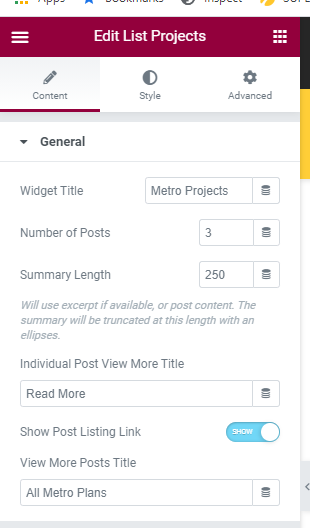 Widget Title is the text going into the colored bar
Number of Posts is how many posts to display. Some designs work best with a value of 3.
Summary Length is how many characters to display from the posts' content before cutting off and displaying an ellipses.
Individual Post View More Title is the text to display to prompt the user to read the rest of the post at its url.
Show Post Listing Link toggles whether or not the button at the bottom that would link to the full listing (such as "View All") is shown.
View More Posts Title is the title of the button below the list that least to a listing of all the related.
You can change the style this lists of projects is displayed in via the Display Style option in the Style tab.