Appendage Construction – North La Brea Yard – Phase 1.1
August 9, 2021

-

March 31, 2022
Summary 
Beginning Monday, August 9, and continuing for approximately seven months, work within the North La Brea Yard will transition to appendage construction for the La Brea Station. 
When 
Monday, August 9, for approximately 7 months.

 

Construction activity will occur between 7am and 10pm; clean up activities may take place between 10pm and 12am.

 
Where 
Wilshire Blvd. and La Brea Ave.

 
Traffic Control 
Wilshire Blvd. between Orange Dr. and Detroit St. will continue to be reduced to two lanes in each direction.

 
Left

–

turn movements from Wilshire Blvd. to La Brea Ave. will be maintained until the implementation of La Brea Appendage Phase 2.0, currently scheduled for the end of September 2021.

 

Southbound La Brea Ave. will continue to feature two travel lanes. The right

–

turn pocket to westbound Wilshire Blvd., however, will be closed. Right

–

turn movements will not be restricted.

 

The west La Brea Ave. sidewalk will be inaccessible to pedestrians between Wilshire Blvd. and 6

th

 St. Local access to businesses will be maintained.

 

The east-west crosswalk on the north side of the intersection will be closed over the duration of the closure.

 
Zone Map: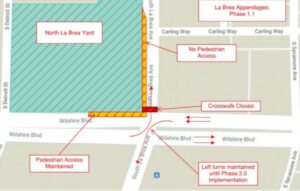 Access 
Access for emergency vehicles and

 

first responders will be maintained.

 
Metro Access 
Metro bus stops may be relocated or lines could be impacted. For information changes to Metro service, please call 323.GoMetro. Passengers are encouraged to use the Transit App to plan their travels. 
Noteworthy  
All work has received necessary permits and approvals.

 

Access for pedestrians will be maintained outside of the construction zone.

 

Access for emergency responders will be maintained.

 

Construction is a dynamic process and information is subject to change without notice. 

24/7 Hotline:

 213-922-6934

 
Business Interruption Fund  
Metro's Business Interruption Fund (BIF) provides financial assistance to qualifying small "mom and pop" businesses directly impacted by construction; learn more by visiting metro.net/bif. To apply, visit Metro's program administrator, Pacific Coast Regional Small Business Development Corporation (PCR).